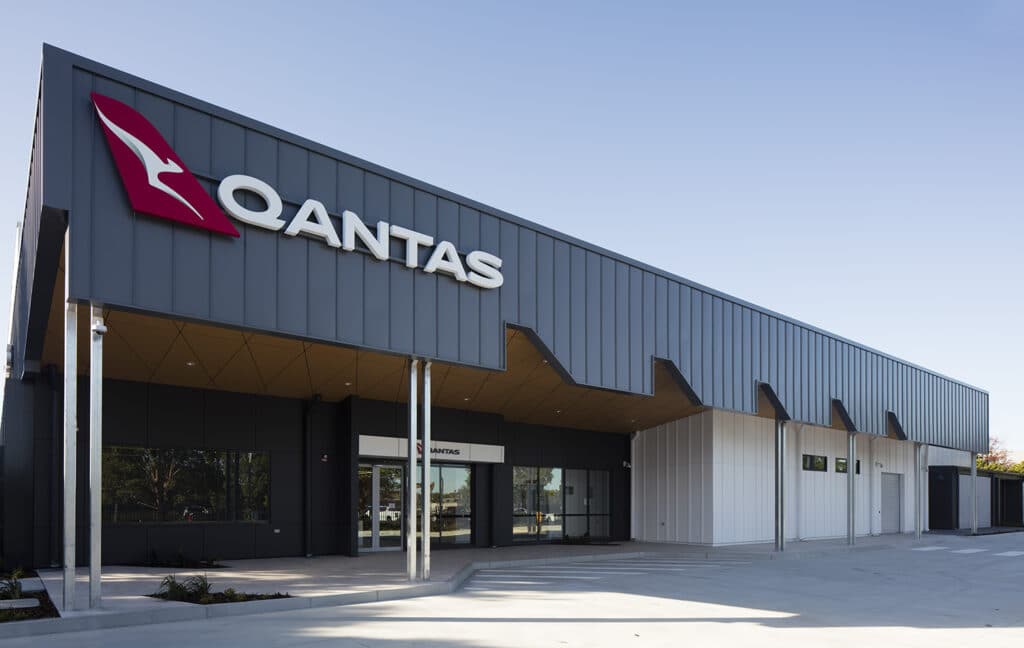 Qantas has celebrated the opening of the newly completed Qantas Group Flight Training Centre, a state-of-the-art facility delivered by Tomkins Commercial. Located at Brisbane Airport, the training centre has the capacity to train up to 900 pilots per year.
Tomkins General Manager, Julian French, who was invited to attend the official opening event along with dignitaries such as Qantas CEO, Alan Joyce, and Queensland Treasurer and Minister for Investment, Cameron Dick, said he was proud Tomkins is playing such a key role in Brisbane's continued economic and industrial development.
"Working with world-class client, Qantas, and building facilities that allow them to maintain the highest standards of skills and experience, while also contributing to the flourishing Brisbane economy, is all part of why we do what we do at Tomkins.
"I'm incredibly proud of our project team for delivering such an impressive facility, particularly given the additional layer of complexity accommodating the simulator technology added to the build."
Part of the Brisbane Airport's Da Vinci precinct, the site consists of a 1,134sqm simulator warehouse with 1,040sqm of connected office space for Qantas staff.
The Training Centre is home to aircraft simulators – Boeing 737, 767F and 787 Dreamliner and Dash-8 Q400,as well as a Q400 flight training device, all used by pilots to complete their four annual sessions of simulator training, and specialised training when moving to a new aircraft type.
Throughout construction, the project team worked closely with Qantas and specialised third party consultants to coordinate and circumvent several unique design challenges between Base Building work and simulator installation requirements. Qantas also engaged the team to work on the Interface fit out with their specialised fit out team, to connect from Base Building work back to the simulators.
To accommodate the forces applied by the flight simulators, 100cbm mass concrete motion pads were required. The motion pads were completely isolated from the foundational slab to ensure no vibration and noise transfer into the building. Further to this, two chillers were installed to guarantee a constant temperature between 22 to 24 degrees in the simulator hall, which is required to ensure flight simulator functionality.